We are proud to announce that STEEReoCAM™, our hugely popular 2MP global shutter MIPI Stereo camera is now available to evaluate with NVIDIA® Jetson Nano™ developer kit. STEEReoCAM™ is already known for its accuracy and depth range among our customers using NVIDIA® Jetson AGX Xavier™/TX2 platforms.
For more info, please visit: https://www.e-consystems.com/nvidia-cameras/jetson-agx-xavier-cameras/stereo-camera.asp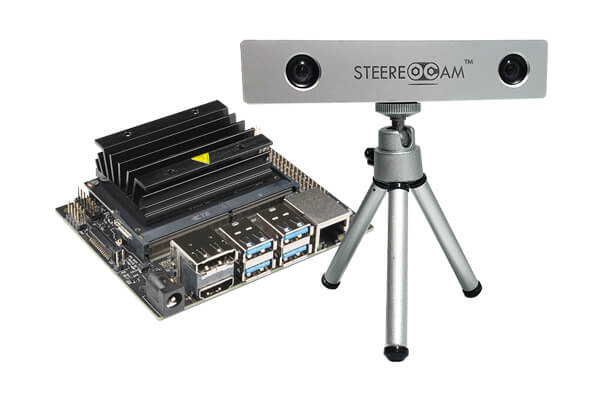 Features & Benefits :

[b]
[/b]
              Optimized stereo algorithm that can provide high quality 3D Depth map for 1600 X 1300 without stressing the CPU.
[b]
6-axis Inertial Measurement Unit (IMU)
[/b]
              Helps to measure and track the objects/human figures. Can be used for pose estimation even in cluttered environments.
[b]
Depth ranges from 0.95m to 8m
[/b]
              Helps to measure the distance of object/ human within the given range(near to far) more accurately.
[b]
[/b]
              Helps to transfer data faster (3GBPS) between camera and host devices.
[b]
[/b]
              Adjusts the overall exposure of the image based on the light level. Suitable for both outdoor and indoor applications.
[b]
Pre-calibrated S-mount lens pair
[/b]
              Ready to use Stereo Camera, Reduces the chances of error in depth measurement.
Target Applications :

Autonomous Navigation systems
Robotics
Drones
Face recognition
3D Reconstruction
3D Video Recording
Embedded Vision
Getting Started with STEEReoCAM™ for NVIDIA® Jetson Nano™ developer kit :

https://www.youtube.com/watch?v=f-siOKOXNjU
Please contact sales@e-consystems.com for any customization or porting of camera driver to your requirements.