dear all:
from programming guide 5.1.1.3, it says "Throughput of memory operations is 8 operations per clock cycle.
When accessing local or global memory, there are, in addition, 400 to 600 clock cycles of memory latency."
it seems that latency of global memory is 400~600 core cycles.
But I wonder how to obtain this number.
I estimate memory latency in the thread http://forums.nvidia.com/index.php?showtop…st=#entry600634
and obtain about 110 core cycles.
In that article, I use DDR2 to model GDDR3 and use generic DRAM model in the book "MEMORY SYSTEMS Cache, DRAM, Disk", see figure 1.
figure 1: DRAM model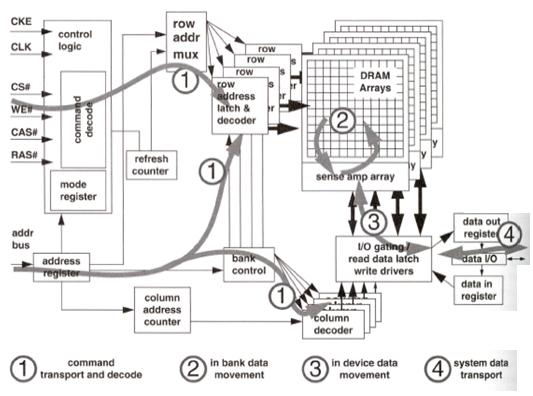 and Gatt chart of a complete ready cycle is shown in figure 2, it relates to row access, column read, data restore and pre-charge.
figure 2: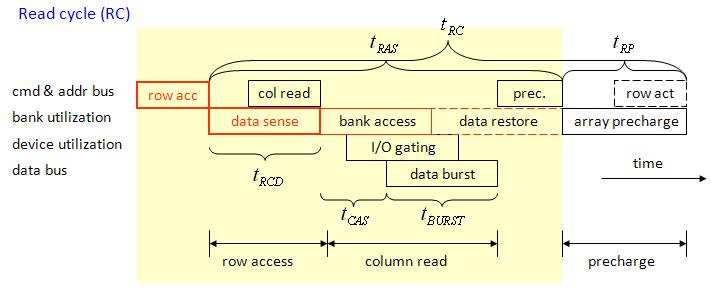 also from thesis of Wilson Wai Lun Fung (https://circle.ubc.ca/bitstream/2429/2268/1/ubc_2008_fall_fung_wilson_wai_lun.pdf ),
the author adopts GDDR3's timing parameters provided by Qimonda for their512-Mbit GDDR3 Graphics RAM clocked at 650MHz.
We adopt the same timing parameters except frequency (TeslaC1060 is 800MHz). The parameters are summarized in table 3.

From above data, we can estimate duration of a complete read cycle.
read cycle = tRC = tRAS + tRP= 21 + 13 = 34 (memory cycle)
core frequency of Tesla C1060 is 1.3GHz and memory clock is 400MHz, then
read cycle = 34 (memory clock) x 1.3GHz/400MHz = 110.5 (core cycle)
this number is far from 400~600 cycles.
second, global memory is divided into either 7 partitions (GTX260, GTX295) or 8 partitions (TeslaC1060) of 256-byte width.
and partition camping problem occurs, for example, all SMs access the same partition, then bandwidth is limited to 1/8 or 1/7
of maximum bandwidth. This leads to the question:
Is memory interface also divided into 7 or 8 partitions? say
GTX295 has 448-bit per GPU, 448 = 64 * 7, each partition uses 64-bit interface.
TeslaC1060 has 512-bit interface, 512 = 64*8, each partition uses 64-bit interface.
If so, then this can interpret
"partition camping problem occurs, for example, all SMs access the same partition, then bandwidth is limited to 1/8 or 1/7 of maximum bandwidth"